The Lone City is a young adult fiction trilogy written by Amy Ewing. It was published by HarperTeen.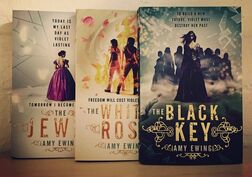 Main Books In Series 
Main Article: The Jewel
Release Date: September 2nd, 2014
The Jewel means wealth. The Jewel means beauty. The Jewel means royalty. But for girls like Violet, born and raised in the Marsh, the Jewel means slavery. Like the other Marsh girls, Violet has been trained to work for the royalty. But after she is bought at the Auction, she quickly learns the brutal and violent truths that lie beneath the Jewel's glittering facade. 
Violet must try to stay alive and when an unlikely friendship offers her an opportunity, she sings to the hope of a better life-until a forbidden romance changes everything. Suddenly Violet finds herself in a different kind of danger, one that may cost her more than she bargained for. 
Main Article: The White Rose
Release Date: October 6th, 2015 
Violet Lasting is on the run. After the Duchess of the Lake catches Violet with Ash , the hired companion at the Palace of the Lake, Violet has no choice but to escape the Jewel or face certain death. So along with Ash and her best friend, Raven , Violet runs away from her unbearable life of servitude. But no one said leaving the Jewel would be easy. As they make their way through the circles of the Lone City, Regimentals track their every move, and the trio barely manages to make it out unscathed and into the safe haven they were promised—a mysterious house in the Farm.
But there's a rebellion brewing, and Violet has found herself in the middle of it. Alongside a new ally, Violet discovers her Auguries are much more powerful than she ever imagined. But is she strong enough to rise up against the Jewel and everything she has ever known?
Main Article: The Black Key
Release Date: October 4th, 2016 
For too long, Violet and the people of the outer circles of the Lone City have lived in service to the royalty of the Jewel. But now the secret society known as the Black Key is preparing to seize power.
And while Violet knows she is at the center of this rebellion, she has a more personal stake in it—her sister, Hazel, has been taken by the Duchess of the Lake. Now, after fighting so hard to escape the Jewel, Violet must do everything in her power to return to save not only Hazel, but the future of the Lone City.
The World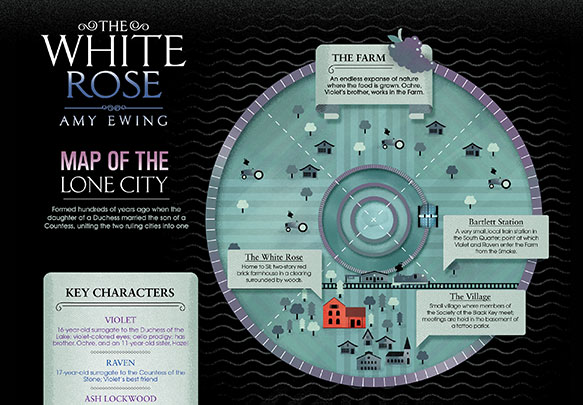 Community content is available under
CC-BY-SA
unless otherwise noted.